Music can be one of the more challenging and daunting subjects to teach as part of the Australian primary curriculum, particularly for teachers who feel they have not had enough personal experience with music.

There can be confusing concepts and intimidating terminology and so we have set up this blog to try to help that. We're going to be blogging about music education in Australia and creating simple resources that will be designed to help primary school teachers in the classroom.
If you would like to receive the updates from our blog, enter your details in the side bar and we'll send you one email per month. ------>
Our first blog is a summary of the Australian primary music curriculum. We have broken down the curriculum into the key learning objectives for each year group as well as the overall outcomes students will get from the subject during primary school.
If you'd like to read the full curriculum, that is available here.
1.) What is primary arts education in Australia?

The Australian arts curriculum contains 5 core subjects which are as follows:

Dance
Drama
Media Arts
Music
Visual Arts
While, often there is crossover between the different subjects each requires and helps a child develop its own set of unique skills. The Australian arts curriculum is designed to teach children about artistic practices in the past and engage and develop their own skills both as they learn and for the future.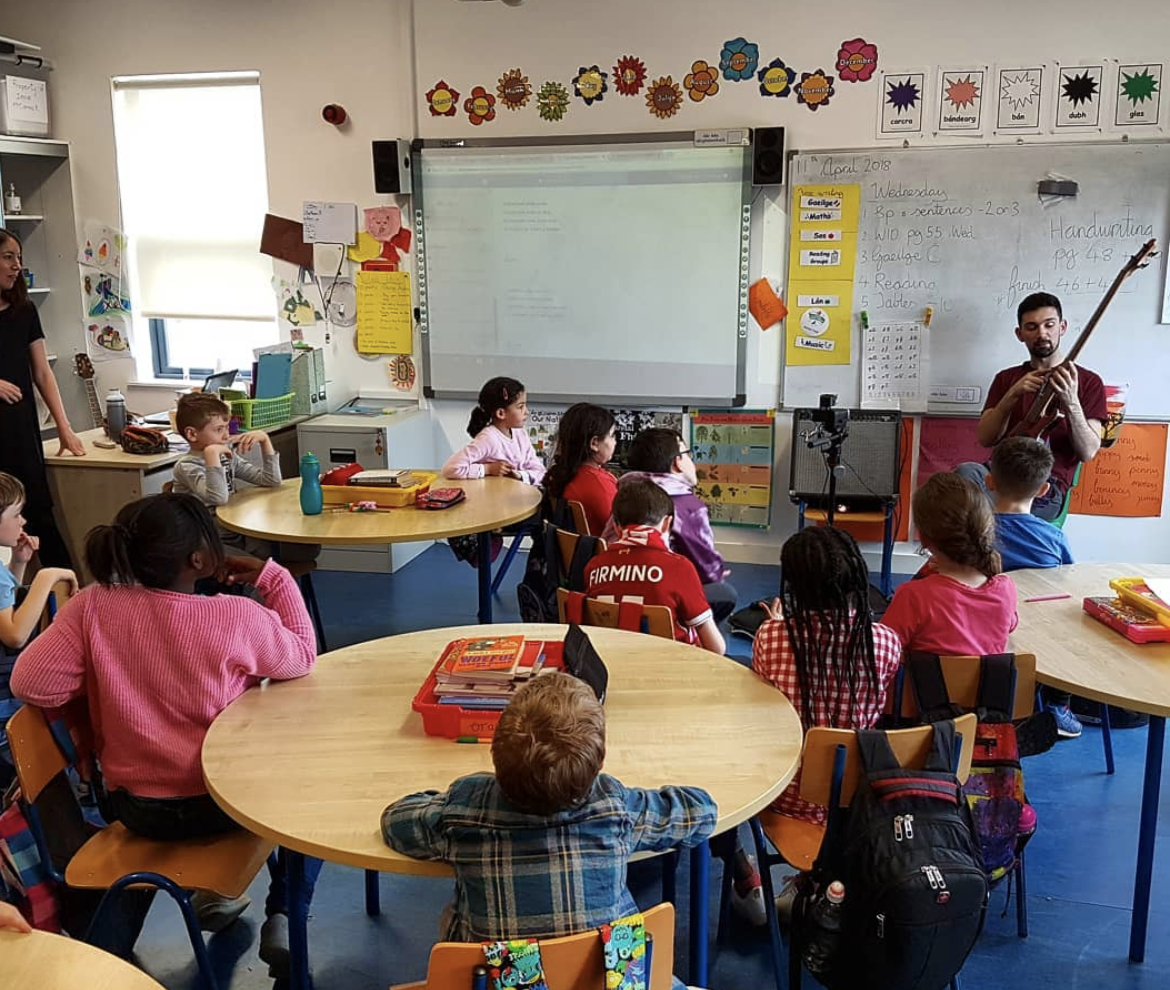 2.) Role of music in Australian primary education
The music curriculum refers to the subject as follows:

'Music has the capacity to engage, inspire and enrich all students, exciting the imagination and encouraging students to reach their creative and expressive potential.'
To achieve this overall philosophy, the curriculum is structured into 4 key strands which are as follows:
1. Listening - this strand is designed to the develop the aural skills of children. In the earlier years it looks at helping students to recognise sounds and progresses to encouraging them to identify the moods and styles of various pieces they listen to.
2. Performing - this strand is designed to help students build skills in both vocal and instrumental performance. Like the listening, the earlier years encourages children to explore sounds and to get a basic grasp of the physicality of singing or playing an instrument. It then progresses on to more advanced performance using expression.
3. Composition - this strand encourages the development and expression of musical ideas among the students. Students are encouraged to notate, record and perform their compositions so they can be experienced by their teacher and other students. Experiencing other student's compositions and ideas is an important part of learning.
4. Responding - this strand encourages students to respond to both the music of their communities and the music of different cultures. Particular emphasis is given to Aboriginal, Torres Strait Islander Peoples and the music of Asia. Understanding the role of music in different cultures provides context for the purpose and role music plays.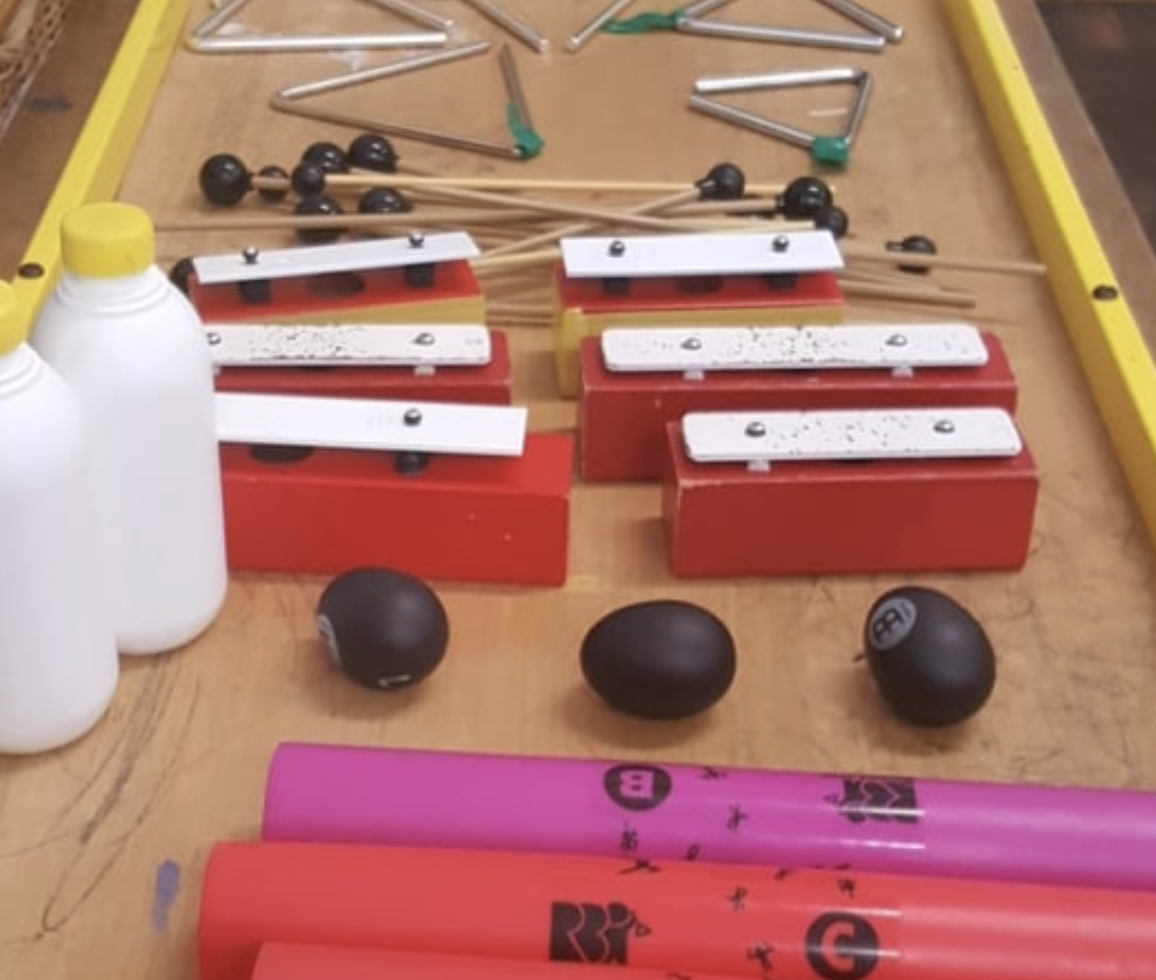 3.) Summary of Each Curriculum Year Group

The Australian primary music curriculum is broken down into 3 distinct curriculums for different age groups. They are as follows:

Kindergarten to Year 2
Year 3 and 4
Year 5 and 6
Each curriculum follows on from one another improving a student's skills and understanding of the subject. An important aspect of musical progression of students throughout these years is the space to continually practice and repeat certain musical activities. By regularly repeating, it builds their skills further which gives students a greater confidence to both present their abilities and to pursue if further.
Below is a break down of the focus behind each grouped curriculum (sections in italics are taken directly from the curriculum):
1. Kindergarten to Year 2

'Students are engaged through purposeful and creative play in structured activities, fostering a strong sense of wellbeing and developing their connection with and contribution to the world.'
Focus is on children learning how art can help represent their ideas on the world. They experience being able to both share their art with others and also experience the art making of others.

In music, students will:
become aware of rhythm, pitch, dynamics and expression, form and structure, timbre and texture
explore sounds as they learn to listen to and make music
learn to discriminate between sounds and silence, and loud and soft sounds
learn to move and perform with beat and tempo
learn to listen as performers and as audience.
At the end of year 2 the students will be able to form opinions about why people make art and also what art they personally do and do not like. Students will also have got to a point of being able to create and share their own artworks.
2. Years 3 and 4

'Students are now able to take their art creation to a more independent level, collaborating with others through creation and response.'
At this age, students are starting to learn about the context of different music from different cultures. They should now start to develop opinions and be able to make connections for their own compositions. By developing their own tastes on what they like and dislike in other artists work, they are also able to become more discernable audience members themselves.
In music, students:
extend their understanding of the elements of music as they develop their aural skills
match pitch and show the direction of a tune with gesture or drawings
recognise difference between notes moving by step and by leap
recognise and discriminate between rhythm and beat
explore meaning and interpretation, forms, and elements including rhythm, pitch, dynamics and expression, form and structure, timbre and texture as they make and respond to music
learn to listen as performers and as audience, extending their awareness of themselves and others as performers and as audience.
By the end of the year students will be able to discuss similarities and differences between various art pieces they make and those made by others. They will also be able to start to collaborating with other through to improvisation, composition and arrangement.
3. Years 5 and 6

At this, the final stage of the primary music curriculum, students will have a good understanding of different artworks from different countries and cultures. Art from those cultures will now have a context in the students minds as they will have a good understanding of the various communities studied such as Aboriginal and Torres Strait Islander Peoples. The curriculum affords the flexibility for students to learn about the arts from more distant countries and to develop curiosity for this learning.

Students will also start to explore more meaning, interpretation, and social and cultural contexts of the arts. During these years they will be able to develop their technical artistic skills and practice their ability to perform. Consideration will also start to be given to how different audiences engage with their art.
In Music, students:
become aware of rhythm, pitch, dynamics and expression, form and structure, timbre and texture
explore sounds as they learn to listen to and make music
learn to discriminate between sounds and silence, and loud and soft sounds
learn to move and perform with beat and tempo
learn to listen as performers and as audience.
By the end of their time in primary education students will feel confident in discussing how ideas are communicated and also be able to both appreciate and convey expressive style within music.
4.) Break-down of Each Curriculum by Year Group

As discussed the curriculum is broken down into 4 key strands: listening, performance, composition and responding. Each section below has been coloured accordingly.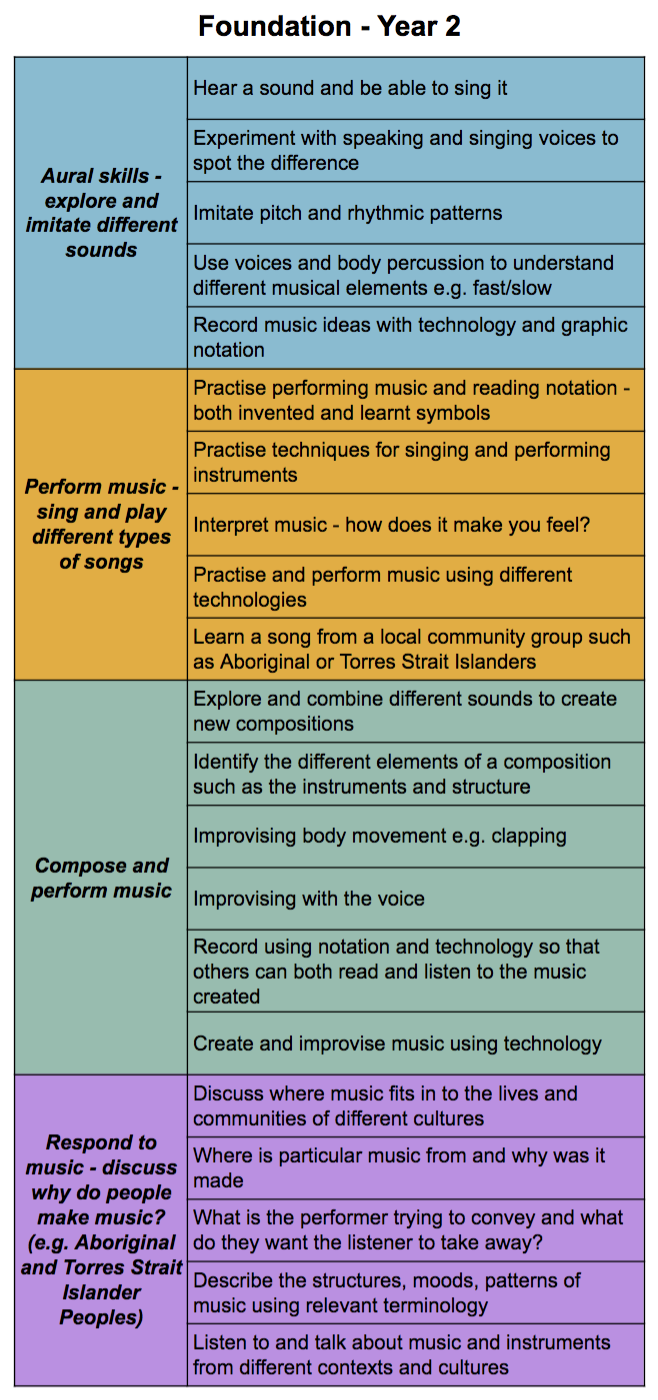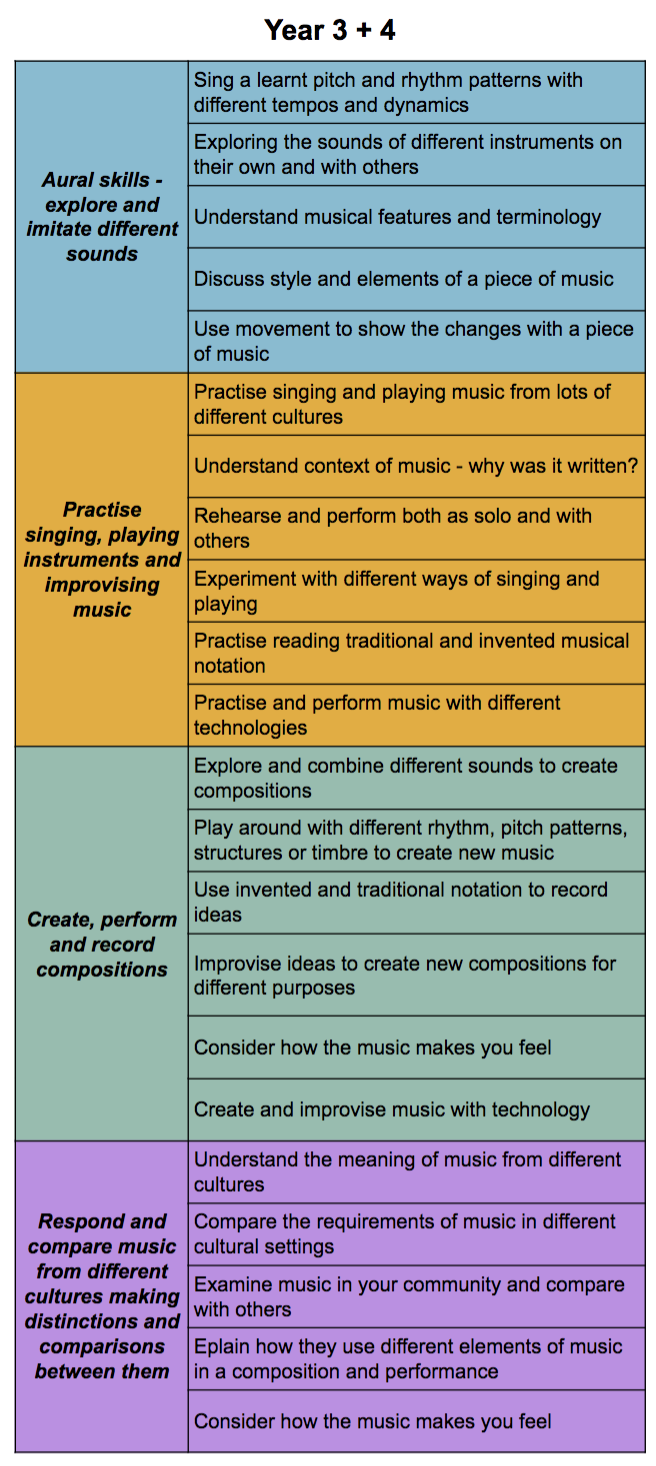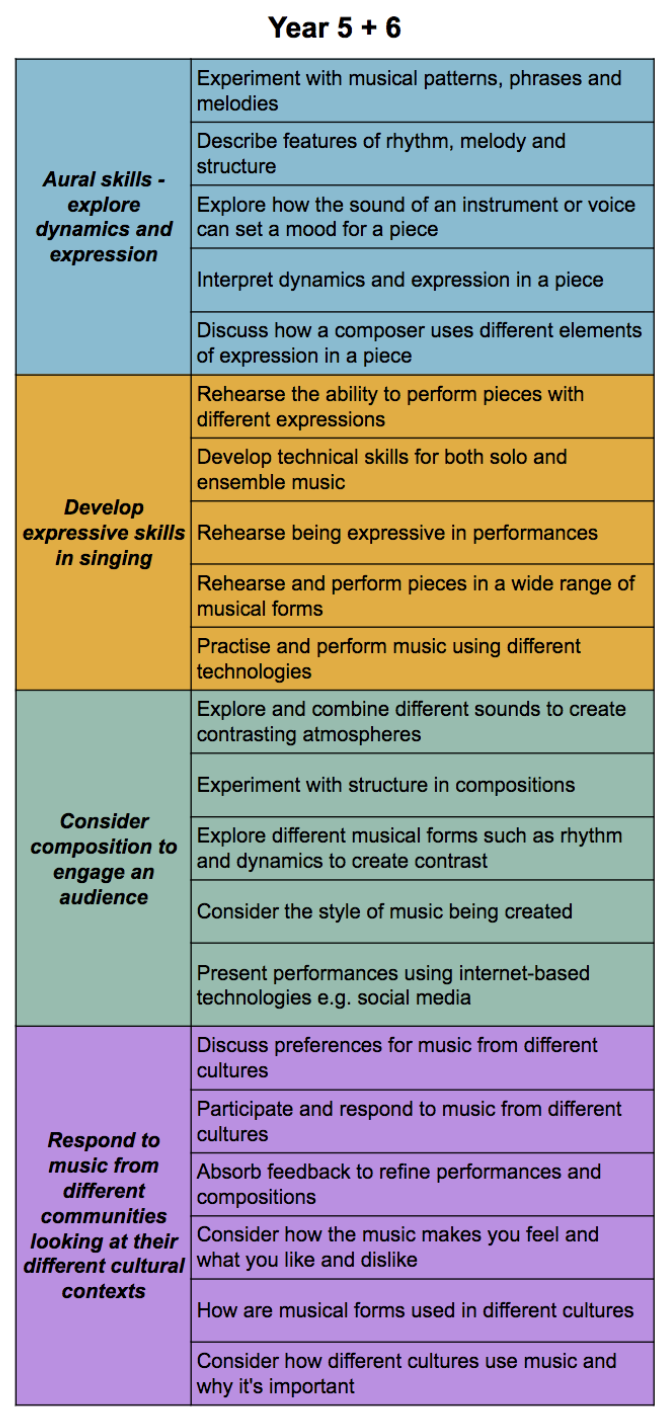 5.) Final Summary of the Australian Primary Music Curriculum
To conclude, the music curriculum, in my opinion, is centered around 5 core competencies which it aims for students to grasp. These are as follows:
Technical skills - arguably the most important aspect of learning music is for students to develop the skills needed for partaking in the performance of music. Developing skills, whether they are with an instrument or using the voice, help students to build their confidence with the subject. Building confidence can spark creativity with other instruments or musical styles and deepen a student's relationship with music further.
Working collaboratively - developing art in collaboration with a teacher and with other students in the classroom can create further learning and the spreading of new ideas. By working with others and sharing ideas it develops important skills of teamwork which will be transferable to a multitude of other areas for the student.
Sharing artwork - there is a common thread of encouraging students to share the art they have performed or created. By doing this it gives confidence to the student through the presentation of their ideas as well as enabling them to receive feedback from others which will help to refine their work.
Being an audience member - equally important as being able to share your art, is being a member of an audience to experience the art of others. This is again so that a student can learn and be inspired by the ideas of others but also so that the curiosity and interest in experiencing other people's art is developed as a skill itself.
Understanding cultural contexts - the final piece the music curriculum promotes is to encourage students to develop an understanding for music from different cultures. The primary cultures mentioned are Aboriginal, the Torres Strait Islands and the Asia region. The reason for this is it helps form a cultural context music plays in a society which again further underpins the importance of that student's musical creation and the place it has within their wider community.
Let us know if there is any advice you have with delivering the music curriculum. If you'd like a resource for delivering music education in the classroom, why not try our Dabbledoo Music Australia free trial. Click the link below to find out more: